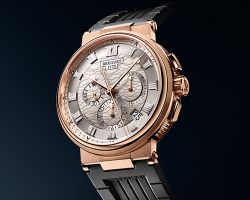 Abraham-Louis Breguet was the brains behind countless inventions in the watchmaking world. In addition to the tourbillon and the pare-chute shock protection device, to mention only two, we also owe to him the split-seconds chronograph, a complication that will soon be celebrating two centuries of existence. Not only did he produce certain timepieces equipped with a seconds hand that could be started and stopped on demand before 1810, but A.-L. Breguet subsequently created an ingenious inking chronograph with his pupil Fatton, then went even further by developing a "chronomètre à doubles secondes, dit d'observation" from 1820 onwards, the undisputed ancestor of all split-seconds chronographs. Breguet's work inspired the entire watchmaking profession in all fields, and notably that of chronographs.
Endowed with the graphic codes of the new-generation Marine models presented last year, this 42.3mm timepiece sets the tone. The measurement of the time occurs through a central chronograph hand, distinguished by a subtle maritime detail and completed by two distinct subdials at 3 o'clock for the minutes and at 6 o'clock for the hours. The small seconds is indicated at 9 o'clock. A date indication between 4 and 5 o'clock sets the final touch to this sporty-looking creation.
Keen to offer a broad palette of possibilities, Breguet is interpreting this new model in several versions. The first combines a white gold case with a blue dial in gold, on which the wave-motif engine-turned pattern echoes the collection's origins. A variation in rose gold is also available with a silvered gold dial. Breguet also offers its Marine Chronograph 5527 in titanium, a novelty for the collection. The Manufacture also offers the wearer the choice of opting for a leather or rubber strap.
View this collection at select Rivoli Prestige boutiques.